Are You Wondering How to Care for Your Elderly Relatives? Have You Considered Multigenerational Living?
We have been following the whole concept of multigenerational living with keen interest because in recent years we have had to consider how to help our parents age gracefully, with dignity, and as much independence as possible as they began living their golden, olden years.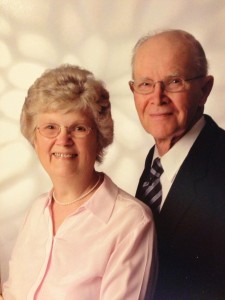 (Photo: The parents of TraVek's owners, taken shortly before their mother passed away in 2013.) Today I was reading an article about the cost of nursing home care. According to the annual Genworth Cost of Care Survey, a person will spend approximately three years in a nursing home at a median cost of $262,800. The median daily cost of a room can be anywhere from $212 to $240, depending on whether or not it's a private or semi-private room, as well as the location and services needed. In Arizona, the average cost per day is anywhere from $160 to $212, so it puts the annual cost anywhere from $61,000 to $77,380, which is not too far from the nationwide medians.
The fact is, when you consider the cost of nursing homes and assisted living facilities, a person can run through a whole lot of money in a rather short time.
Why, then, when there are so many benefits to multigenerational living, wouldn't more people consider fitting their homes to take in their parents in a way that would be beneficial to all who are involved? Maybe they just haven't realized how they'd swing it financially and otherwise.
Have you considered this? A guest house or "Parents' House" can be added to the property of an existing home at a total cost of anywhere from $75,000 to $200,000, depending on the location, size, features and products. There are options such as adding a second master suite into the existing home if adding totally separate living quarters is not viable.
If parents were to live in a nursing home, they would whistle through that money in anywhere from a year to three, and have nothing left to show for it.
On the other hand, if they put that money into their children's property, not only would they have the best of both worlds in that they could enjoy old age in the company of family, yet live in their own quarters, and have help close by. At the same time, the property value of the home has increased, and their money has been used to the benefit of the caregiver, the homeowner, their child.
There are many ways the financial part of it can be worked out, but in this way, finances do not have to rest on only one person's shoulders when parents and children are in this plan together. They can share the initial investment, or parents may want to put this investment as a sort of "inheritance" into their child's home, or the child can just add this to their home as their own investment into the property, too.
The best part of it all is that, in this ever increasingly busy life we live, families can settle in and be close to each other, caring for the needs of each other without having to drive across town several times a day or several times a week.
It brings such a peace of mind in more ways than one!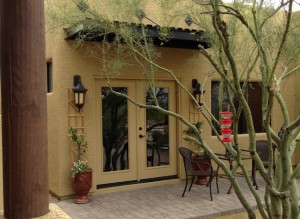 This is a beautiful 1289 sq. ft. guest house addition we completed. Notice how the addition blends right in with the Arizona desert, and you cannot even tell that it was an addition to the main house! Todd did a marvelous job of designing this, and the homeowners are delighted. In this case, these homeowners get a lot of visitors and family that come to stay with them. What a great way to enjoy each other's company while still being able to have some private space.
For those of you who are looking for ideas for your elderly parents, this is a great way to have them living closer to you, yet allow them to enjoy their own space and hold on to some independence! Here are pictures of the Cave Creek Guest House Addition.
Are you interested in adding a guest house or parents' quarters to your house? Call now to 1-855-221-8286.