Guest House Addition in Cave Creek
We just completed a home remodeling project in North Phoenix, or Cave Creek, to be more exact.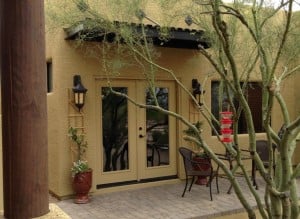 These particular homeowners get a lot of family and company during the winter season, and they really wanted to be able to have a place where their guests could have their own space and privacy. They had ample room on their property for a 1289-square-foot guest house to be built.
When you look at the photos here, you'll find it hard to imagine that this was not all built at one time. The guest house quarters tied in beautifully with the architecture of the house, and we were able to enhance the looks and functionality of their home. The homeowners are delighted!
Nowadays, it has been becoming more and more popular for extended families to be occupying the same home, whether it be elderly parents or "boomerang" children. A guest house or a casita is a perfect way for this to happen. Each family unit is able to maintain their own space, privacy, and independence (to some extent), while the rest of the family is just a stone's throw away.