Contemporary Kitchens Are The Style!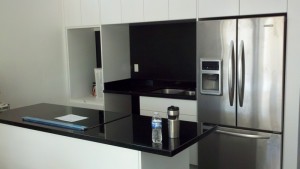 The kitchen remodeling trend for 2014 according to an National Kitchen and Bath Survey (NKBA) indicates that the contemporary kitchen style is the fastest growing style this year!
More than half of the respondents said they are looking for easy maintenance.
This was a surprise to me: Technology is being incorporated in kitchen projects, too. 56% said they have included flat screens in their kitchens!