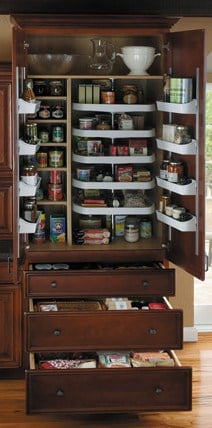 How Organized Are Your Cupboards? Would You Be In Need of a Chef's Pantry?
Have you ever started baking or cooking and then needed to get down on all fours to fish something out from the back of some bottom corner cupboard, or had to grab a stool to climb up high for something else? How about your baking ingredients? Do you pile bags of brown sugar, chocolate chips or coconut on top of spice jars? Do you constantly have to move things to the side to try find the vanilla or a can of baking powder? Does this sound at all familiar?
Your cupboards do not have to be like this. Imagine cupboards with pullout shelves on gliders so you do not have to get down on the floor and really dig around to find what you need. Imagine all of your spices organized nicely on a rotating rack that tucks away when you shut the cupboard. Imagine a convenient place for everything that you would ever use in baking!
A chef's pantry is an excellent option and choice for the person who enjoys cooking and baking. The one pictured below is just one of numerous designs, but you can get the idea of how this could greatly help you organize your kitchen so that cooking and baking can be even more pleasurable! TO SEE MORE IDEAS FOR A CHEF'S PANTRY, CLICK HERE.