Dovetailed Drawers - Are they Worth It?
A good dovetailed drawer is a sign of a good craftsman.
Are You Looking for Cabinetry?
Recently I had a conversation about dovetailed drawers in the kitchen. Basically, it came down to the question: Are they worth the added expense?
In my opinion, yes. Very simply put, and probably the most important reason I like dovetailed drawers is because they tend to be a sturdier drawer, and I prefer to sell quality. Hardwood is used in that type of cabinetry, and so that lends to the drawer lasting longer and looking nicer.
.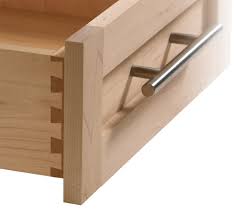 (Image of dovetailed drawer from Eagle Woodworking.)
There are alternatives to dovetailed drawers. Box joints are similar, but they do not have the little tail that gives an added strength to keep the drawers together. Box joints are used on a drawer made from plywood.
Also available are drawers that are stapled or glued. First of all, the "wood" used might not really be wood, but laminate. Your drawers will sag and fall apart more easily. Laminate will not hold up to heavy weight like a hard wood does.
There are other options available such as dowels or sliders, but I almost always recommend the dovetailed drawers. In all my days of remodeling, I don't recall anyone regretting getting those. On the other hand, people who have not gone with dovetailed have sometimes regretted not investing a little more for a lot more quality.
Here's an interesting link from This Old Home that gives some basic information regarding kitchen cabinets. CLICK HERE.
Enjoy.
Sincerely,
Todd Raisanen
P.S. We love to use Starmark Custom Cabinetry for our product.