Christian
TraVek, Inc.
Title: Remodeling Assistant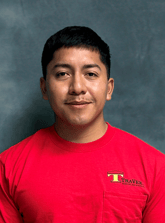 Christian comes to TraVek, Inc. through a partnership with between the CPI Foundation (CPI) and TraVek, Inc. CPI is a US military Career Skills and Skill Bridge Program, and provides 12-20 week internships for all branches of the US Department of Defense. TraVek, Inc. is delighted to partner with the CPI Foundation in this way.
Christian enlisted in the United States Marine Corps and was in Camp Pendleton. During his time there he has looked after weapons by scheduling and performing organizational and preventive maintenance, supervised and managed 8 Marines to complete daily tasks, and was responsible for supervising and maintaining a $1.4 million weapons system and equipment. The last four months he was a military police. He has upheld code of conduct and maintained professionalism in stressful situations.

Before enlisting in the USMC, Christian was a drywall finisher in Phoenix for two years. That experience included many parts of the remodeling process.
Christian came to TraVek because he has the same sense of pride in doing a job well in the construction industry, and wants to be a part of helping both the community and company grow.
In his spare time, Christian enjoys going to the gym, reading daily for 20-30 minutes, soccer and trying out new things such as golf.
He said his family is a very hard-working family, and he enjoys spending time with them. They're always looking out for the best for each other and very supportive.
our service area
We serve the following areas
Carefree
Cave Creek
Chandler
Fort McDowell
Fountain Hills
Gilbert
Glendale
Mesa
Paradise Valley
Peoria
Phoenix
Queen Creek
Rio Verde
Scottsdale
Tempe
Our Locations:

TraVek Inc
7661 E Gray Rd
Scottsdale, AZ 85260
1-480-739-6200