Kitchen and Bath Design Trends 2023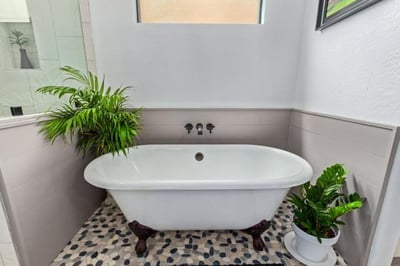 As we move into 2023, the world of Scottsdale kitchen and bath design is evolving with new trends and styles that are transforming the way we look at these spaces. From bold colors to sustainable materials, here are some of the hottest trends in kitchen and bath design that you can expect to see this year.
Statement Lighting
Statement lighting is a trend that has been gaining popularity in recent years, and it's set to continue in 2023. Bold, oversized pendant lights or chandeliers are being used to add drama and character to kitchen and bathroom spaces. These statement pieces can serve as a focal point, elevating the overall design of the room.
Colorful Cabinets
White cabinets have long been the go-to choice for kitchens and bathrooms, but in 2023, we here at TraVek are seeing a shift towards more colorful and daring cabinet choices. Colors such as navy blue, forest green, and deep red are becoming increasingly popular. Not only do these colors add personality to the space, but they also create a warm and inviting atmosphere.
Sustainable Materials
Sustainability is becoming more important than ever, and this is reflected in kitchen and bath design. Eco-friendly materials such as bamboo, reclaimed wood, and recycled glass are being used to create stylish and functional spaces that are also environmentally responsible.
Matte Finishes
Matte finishes are a trend that is taking over in kitchen and bath design. From matte black fixtures to matte-finished cabinets, this trend adds a subtle elegance to the space. The matte finish also has a practical benefit as it hides fingerprints and smudges, making it an excellent choice for high-traffic areas like kitchens and bathrooms.
Freestanding Tubs
The freestanding bathtub is a classic design element that has recently made a comeback. These statement pieces are perfect for creating a luxurious spa-like atmosphere in the bathroom. They come in a variety of materials, from traditional porcelain to modern acrylic, and can be the perfect centerpiece for any bathroom.
Mixed Materials
Mixing materials like metal, wood, and stone is a trend that is gaining popularity in both kitchens and bathrooms. Combining different textures and finishes adds depth and visual interest to the space, creating a unique and personalized look.
The world of kitchen and bath design is always evolving, and 2023 is no exception. With a focus on sustainability, bold colors, and mixed materials, these trends are sure to create beautiful and functional spaces that reflect our changing times. Whether you're renovating or designing from scratch, these trends offer plenty of inspiration to help you create the kitchen or bathroom of your dreams.
Our designers work hard to keep up on the latest trends and design. Call now to schedule an in-home consultation to see how you can incorporate some pops of color or mixes of metals in your home! 1-855-221-8286