Pros & Cons of Hottest Trends in Kitchen Remodeling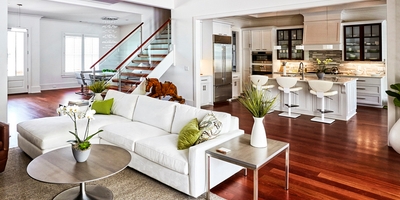 Imagining what a dream kitchen would look, feel and act like gives many homeowners goosebumps. Planning your dream kitchen is exciting, invigorating, and thrilling. Homeowners spend months researching on Houzz.com, Instagram, and other sites to create products and concepts that they want in their new kitchen. It's great to dream. Too often the latest and greatest products and design concepts only tell half the story. A designer's role is to turn your dreams into reality, and part of effective kitchen design is discussing both the opportunity and challenges of different concepts and products so that homeowners in Scottsdale and the Phoenix area have realistic expectations and the kitchen design meets their lifestyle needs. Here are several of the pros and cons of trending design concepts and products.
Open Floor Plan Kitchens
Pro: Open floor plan kitchen designs connect the kitchen to other rooms in the house, primarily living and dining rooms, creating a great room look and feel to the home. Advantages include the ability to move through the space effortlessly, the ability to bring in natural light from other rooms, multiple more decorating options, and space that can serve multiple purposes for working, entertaining, studying, schooling, meeting, etc.
Con: Lack of privacy, noise, cooking odors travel to adjacent rooms, constant upkeep because even the smallest amount of clutter can make the space appear messy. Dishes in the sink or toys on the floor are easily visible from the other rooms and on Zoom calls.
Marble Countertops
Pro: Marble is luxurious, gorgeous, and timeless.
Con: Difficult to maintain. Acids from citrus and common cleaning products can damage marble's finish and grease from cooking can cause permanent stains.
Wood Countertops
Pro: Cost-effective, warm, durable, heat resistant, and relatively easy to repair.
Con: Easily scratched, not naturally waterproof, susceptible to rings from water and wine glasses. Require frequent sealing.
Shiplap Backsplash
Pro: Great way to add character to your kitchen. Cost-effective.
Con: Difficult to maintain, especially the gaps between the boards which can be a magnet for dust. Can warp if not properly installed.
White Backsplash
Pro: Classic look. Bright, clean aura.
Con: Difficult to keep clean and pristine.
Glass Front Cabinets
Pro: Ability to showcase collectibles, glassware, plates, etc.
Con: Not designed for all products that you want to showcase in your kitchen such as ordinary mugs and glassware, water bottles, Tupperware, etc.
Open Shelves
Pro: Warm and inviting vibe. Cost-effective. Easily customizable.
Con: Limited storage. Difficult to maintain. Everything you put on the shelves needs to be cleaned regularly even if not used.
Stainless Steel
Pro: Extremely sanitary. Works with any design motif. Durable. Easy to clean.
Con: Fingerprint prone requiring constant cleaning.
There are pros and cons to almost every component of a new kitchen. The advantages and drawbacks depending on your lifestyle, how and how often you plan to use your new kitchen and for what purposes, and your lifestyle preferences. What do you need to know to design the kitchen of your dreams? Give us a call at 1-855-221-8286 to set a time for one of our designers to meet you at your home to discuss your project. Ask us questions, and let us tell you the pros and cons of different elements you want in the kitchen of your dreams.