7 Reasons Remodeling Contractors Ask For a Design Retainer
Have you ever wondered why a remodeling consultant would come to give an in-home consultation, and then give only a ballpark estimate but then ask for a design fee of 1 – 3% of the anticipated cost in order to get a real estimate? Is this typical when hiring a contractor?
Customers of our remodeling company in Scottsdale ask this quite often, and so we thought we would let you know exactly what goes into the thought behind Design Retainers.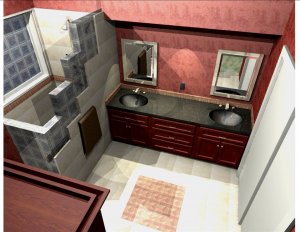 The following are the main reasons that come straight to mind:
1. COMMITMENT: It shows commitment to the extent that you (the homeowner) are really interested in going ahead with a company, and that the company designer is committed to working with the homeowner. Typically, once a client has taken this first step of agreeing to a Design Retainer, the trust between the client and the remodeling company has already been sufficiently established to take the next step.
2. VISUALIZATION: Nowadays there is some great technology that many design-build companies use which allows them to make drawings, put in product selections and give you a very close 3D drawings of how your remodel will look before you even pound the first nail. You may think you know what you want in your design, but when you can actually put it into a drawing and see it before your very own eyes, it takes on a whole new dimension. Perhaps you will just love it, or perhaps something does not look quite as nice as functional as you had imagined. You still have time to make changes during this phase, which does not add to the cost, as it certainly would once the actual construction has begun.
3. RELATIONSHIPS: The design process is a great time to build relationships and get a better understanding of how well you work together. You and your remodeling designer must communicate well and be in sync with each other in order to be able to bring your needs and your visions to reality.
4. TIME: Let's consider a small, simple bathroom. By the time the designer has measured and put in the design and requests, he or she has probably spent at least 4 to 6 hours. That is a minimum. Then there is the time required to do product selections with you, the homeowner, so that the project can be priced appropriately. Your designer has probably done his or her homework ahead of time so that he/she can steer you to the place that has your taste and price, and will help you pick out exactly what will fit into your design and budget. All of this takes time, and the larger and more involved a project, the more time that will be needed to get your design and your pricing.
5. ACCURACY: Your designer is trying to work within a given budget. It is best that you be up front as to what you want or can afford to put toward your remodel right away, because in the world of remodeling, price can vary just like anything else. For example, if you walk into a car dealer, you would have some idea as to what you wanted to spend. Instead of just saying, 'I want a car', you would at least tell what kinds of cars you are considering or a price you want to pay. What if you were looking for a Fiat and they brought you a Cadillac or vice versa? Designers are not mind-readers when it comes to budget, and in order for them to design to your liking, they need to have somewhat of an idea as to what kind of budget you have in mind. It is a waste of everyone's time and energy to design to a budget that is not yours. Once your designer has a budget in mind, then your design can be made to budget, and the costs included in the estimate will be much more accurate.
There are times when someone will want to do a remodel, and really has no idea what the price may be. Your designer will bring reality to the situation at the initial meeting, as far as a ballpark figure is concerned. If reality and your budget meet, that's great!
6. MONEY: When you are working with a design-build company, you are working with expert designers who know their 3D technology as well as the entire building envelope. In most cases, these people are familiar with every facet of the job, and understand construction as well as design. In most remodeling cases, you do not need an architect unless you are changing out the entire structure of the building. In that case, your design-build company can work alongside their own architect, who is often on staff. For the typical kitchen and bath remodel, however, your design-build company is very qualified and knowledgeable in designing and can save you unnecessary architectural fees.
7. FUN: Yes, that's it! It is FUN to work with your designer who will hold your hand through the entire process of remodeling your home! It is really fun to watch your project go from your mind, to the designer's paper, and then carefully constructed through the hands of experienced craftsmen.
TO SEE MORE EXAMPLES OF 3D CONCEPTUAL PHOTOS, CLICK HERE.